New product release -- Passport reader for self service kiosk machine
2022-10-12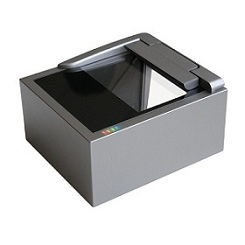 Wintone Kiosk passport reader solves the problem of having to manufacture a kiosk to fit ID/passport scanning hardware to a kiosk. In the past there were many scanning solutions on the market with different shapes and dimensions. Wintone passport reader has been specially designed for self service kiosk machines so that the integrator or kiosk manufacturer have the easy job to making a rectangular easily accessible hole where this device easily fits.
Its slim design makes it ideal for integration with self-serve type kiosks at airports, hotels, banks, transportation terminals.
Wintone kiosk reader offers the following benefits:
· Passport and ID reader designed specifically for integrating into kiosks, desks, vending machines etc;
· Glare-free image scans by hardware-assisted reflection removal that achieve even more accurate OCR results;
· High resolution 500 DPI camera imaging with visible white & IR illumination;
· Slim and compact with no moving part inside;
· Provide optimal solution for scanning ID-1 and ID-2 size cards like national ID cards, driver's licenses;
· 4 programmable LED based feedback lights.
Specifications:
MRZ Decoding:
ICAO 9303 standard compliant documents:
ID-1 (Identity Card)
ID-2 (Passport, Visa)
ID-3 (Passport)
RFID Reading:
Read and write contactless ICs according to ISO/IEC 14443-S (Type A/B);
Support e-passport Basic Access Control (BAC) & Extended Access Control (EAC);
Support active/passive authentication;
Contact smart card reader:
Read smart card according to ISO/IEC 7816;
Barcode Reading:
1D: Code 128, Code 39, Interleaved 2 of 5;
2D: PDF 417, QR Code, Data Matrix , Aztec Code
Image:
Resolution:500DPI
Illumination:Visible, IR and UV
Color Depth:24 bits/pixels
Sensor:CMOS, 5.0 Megapixel
Field of View:127mm*88mm
SDK:
The passport reader comes with SDK, and there include various samples codes for second development.