Passport reader device combined with face recognition technology-perfect solution for the egate application
2022-10-12
The passport reader is already integrated into the automatic e gate in the airport.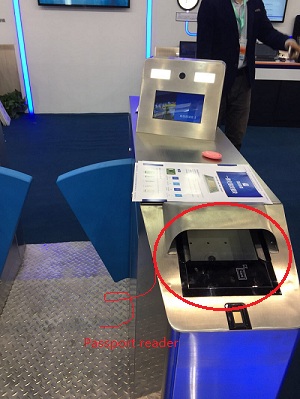 In order to meet the needs of stations,schools, docks, supervisors, factories,buildings, intelligent,district, clubs,enterprises and institutions, large-scale venues and other channels to achieve intelligent security management needs, we developed the solution of integrated ID documents ,reading and face recognitionsmart gates.
The people who have resident identity cards or passport can use the face recognition technology (1:1 identify) self-help through the gates and can also be collected on-site face information. The live photo will be compared to the local stored face information base (1:N identify) white or black list.
Technical advantages of the passport reader;
1. Multipurpose
The passport reader is able to recognize any document in compliance with ICAO 9303. Thanks to our powerful OCR engine, we are able to customize the local non-ICAO documents;
2. Unattended
The device can automatically detect and classify the documents;
3. High accuracy for both ID documents reading and face matching
The deep learning algorithm can guarantee a very high face recognition and ID documents accuracy . The accuracy is the key factor for the smartgate solution;
4. High integration
The face recognition functionality is already integrated in the passport reader device. The ID documents recognition and face matching can be finished in one device and one single step.