How to check-in your international flight at airport?
2022-10-12
It is mandatory to carry a government issued passport and E-Ticket copy if you take the international airline. The same is verified by the airport security as well as the airline at the check in counter.
Arrive at the airport in advance 60-75 minutes for a domestic flight and two to three hours for an international flight- for checking in.
Proceed the check-in counter area and present your passport to the airline staff and they will issue you the boarding pass after your passport is verified. You can choose the seat during the check-in process and your luggage will be checked at the same time.
Sometimes there may be lots of people lining up at the check-in counter, in that case, please try to find the self-service check-in kiosks. If you have your passport for international flights and the kiosk are ion working order, then check-in electronically there.
Press the "start" button on the screen, if there is one and select your language, identify yourself using your reservation/verification number and select your name, scan your passport as directed,
• open your ePassport to the biographic and picture page
• place it face down on the reader so it can scan the picture and read the key information
• hold it down in place until instructed to remove it (this could take a few seconds)
Enter the number of bags you intend to check. If any fees are due for checking bags or bags above the airline's free baggage allowance, you will be asked to pay the relevant fees by credit card at the self-service kiosk.
Currently, Wintone provides 2 different models for the counter check-in and self service kiosk check in:
Full page passport reader for counter check-in at airport:


Self service kiosk passport reader: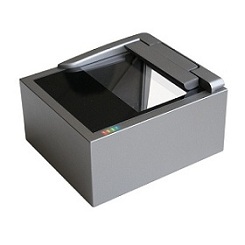 This one is specially designed for the kiosk machines. The compact and square shape make the device very easy to be integrated in the kiosk machines.
Key features of the passport reader device:
· fast processing
· ICAO compliance
· MRZ Decoding
· RFID Reading
· Multiple-light illumination (visible/IR/UV)
· Provide customer with SDK (Software Development Kit)
· High resolution image
· Robust and Compact (No moving part inside and small size)