Function Introduction
Full-Field Recognition

Support read Registration Office Number, Vehicle Type, Owner, Registration Office, Date and etc characters
Powerful Image Processing

Intelligent edge detection, support automatic rotation, inclination correction, complex background trimming and other image processing
Multiple Deployment Methods

Support both integrated use at mobile terminals and privatized deployment at Windows and Linux servers
Output Structural Data

Returns JSON and XML recognition results; supports outputting pictures in PDF format, which can be saved directly to the local
Provide Standard API

Provide standard HTTP, WebService API, support C++, C#, JAVA and other development language calls
Product Superiority
High Adaptability

Adaptable to abnormal condition in actual use, namely, uneven illumination, inclination, ambiguity, etc.
High Recognition Accuracy

Independent training with a large amount of true samples was conducted to enhance the feature extraction accuracy of the model. The recognition accuracy is as high as 99%
Ensure Data Security

Deploy with enterprise intranet to meet users' requirements for data security
Fast Recognition

Single image can be recognized within a second
Multi-Angle Rotation

Support automatic rotation and recognition of ID images at such angles as 90°, 180° and 270°
Self-Owned OCR Recognition Engine

Recognize ID information more accurately
Application Scenarios
Personal Car Loan
Vehicle Information Registration
Automotive Services
Personal Car Loan

When individuals handle a car loan business, the lender initiates a loan application and enters the loan approval process. The user only needs to provide the vehicle registration certificate, vehicle registration certificate and other certificate pictures. Our OCR technology can recognize the vehicle qualification certificate, motor vehicle registration certificate, insurance policy, lease contract, car purchase invoice data information automatically to check the key information such as the frame number and engine number are consistent or not, and it will be automatically reviewed, and loans will be quickly released to qualified customers.
Vehicle Information Registration

Our OCR technology can realize the identification of key information such as the purchased vehicle certificate number, issuance date, vehicle manufacturer name, vehicle brand, vehicle name, vehicle model, etc., to meet the identification requirements of customers in each field, and it can be applied In various scenarios such as vehicle information verification, vehicle registration, and license plate application. Our technology can help staff complete vehicle information inoup quickly, reduce manual input costs, and realize "intelligent" registration of vehicle information.
Automotive Services

Our OCR technology can identify and output vehicle information which can be integrated with auto financial insurance system and vehicle mortgage loan system to obtain vehicle information just by scanning and realize automatic input of vehicle information to improve the efficiency of information input and enhance user experience effectively.
Online experience
Vehicle Register Certificate Distinguish
The recommended: size of the image is about 200KB, and the bit depth is more than 24Recommended resolution of scanned image: 300dpi, less than 3m.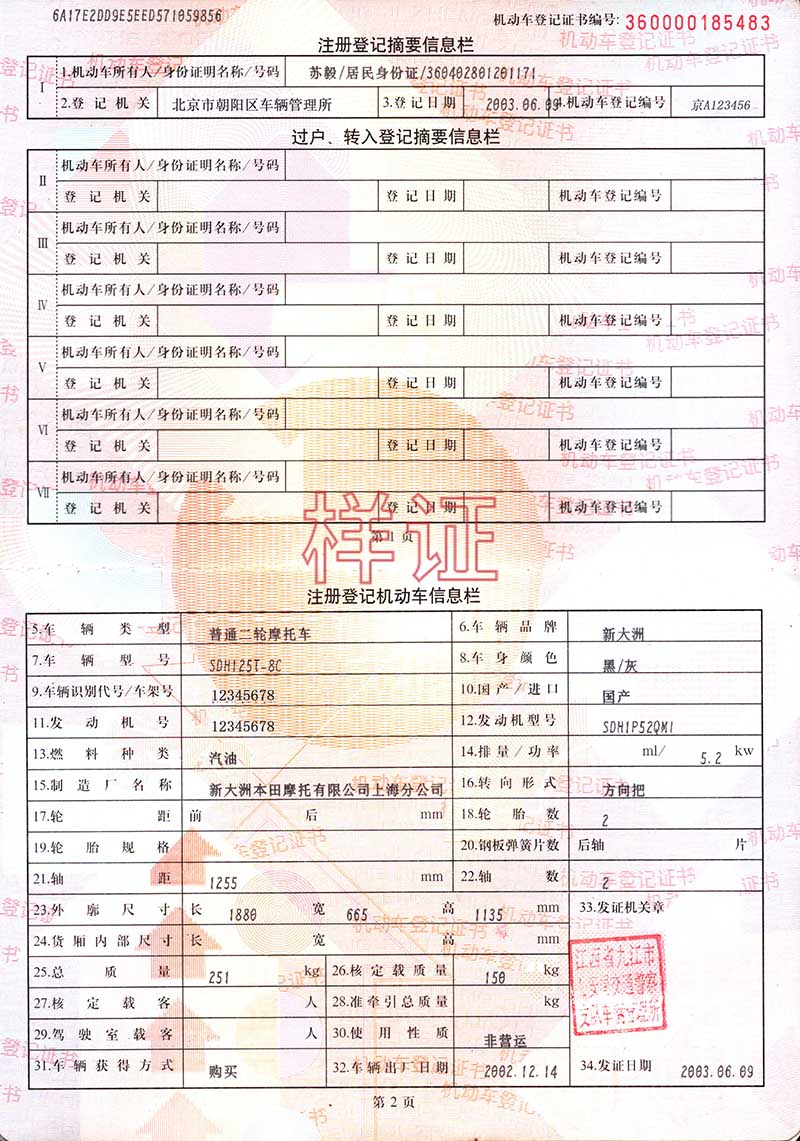 Vehicle Register Certificate
Vehicle Register Certificate